Visibility and Control
from Start to Finish
is a single software platform for managing your entire vehicle reconditioning operation from acquisition to final delivery, creating a single interface for managing every vehicle, every step, and everyone involved.
Repair orders are the primary drivers of the work. In Repair360, they are always current and always available to the right technicians and stakeholders. Gone are the days when a change in the repair order required replacing sheets of paper in the vehicle and updating file copies.

Any changes and approvals, if required, are processed digitally and updated in real time. Technicians and stakeholders are alerted through the software so there is no lost time and no mistakes because of missing information.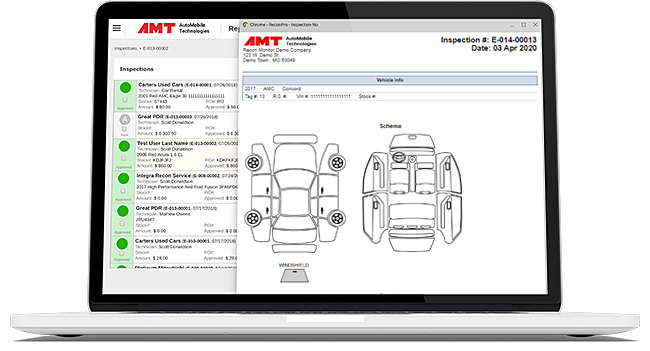 Each vehicle you acquire has its own unique needs for reconditioning, and your inspections are what informs those decisions.
Repair360 inherits vehicle information from your DMS, or from a VIN scan on the mobile device, and returns all the necessary information to uniquely identify the vehicle – Year, Make, Model, Color, Parts Catalogs, OEM Paint Codes, and more. From there, detailed inspections follow prompts within the app to ensure compliance. You can perform multiple inspections per vehicle – mechanical, cosmetic, quality assurance, condition reports, etc.
The inspection automatically creates an estimate for any approvals needed, and a work order (RO) including all approved repairs noted in the inspection. Inspections follow your process with the ability to dynamically change the flow and requirements based on reported elements.
Every phase of your recon process is subject to avoidable delays – time when required work could be underway but is not. These delays could be just minutes, hours, or even days, but they all add up to increased holding time and cost.
Where your gaps lie depends on how you've designed your workflows. Does the vehicle stay in one location while all mechanical and cosmetic work is performed, or does a car need to move to where the work gets done?
Is all the work done by your employees or do you have vendors and sublets for certain specialties (like PDR and interiors)?
What do the hand-offs from one technician to another entail?
How long does it take between process steps?
Have you ever calculated how much time without work-in-progress each "in-process" vehicle actually experiences?
It can be eye-opening.
It can be frightening.
It is an opportunity to improve your margins.
Repair360 keeps your work moving efficiently at scale. Your process is enforced through configurable process steps and assignments, and those steps advance automatically based on repair progress and condition. Employees and vendors know what to do now, what to do next, and when work is coming. You have at-a-glance access and alerts for any exceptions or approvals.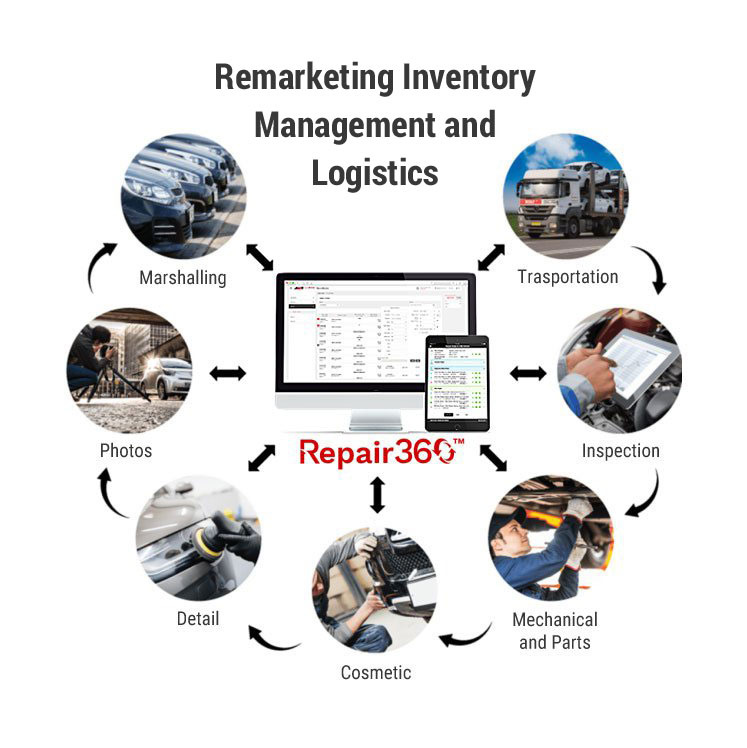 Parts Ordering and Management
The Parts department is a major stakeholder in your recon operation, and that importance is reflected in Repair360's Parts Ordering and Management capabilities.
The Parts department's access to Repair360 lets them know the required parts and act as soon as the need is identified. Parts quotes can be obtained directly within Repair360 from a variety of suppliers (including internal inventory). Once approved, parts are ordered automatically and the status of those orders is tracked in the system for each part and RO.
This enables comparative lookups for parts – OEM vs. aftermarket, salvage, etc., so you can select the right part for each instance.
Vendor and Employee Management
The first step to improvement is knowing what can be improved. With Repair360's vendor and employee management features, including time tracking, you have instant visibility into team and individual performance. Now, it's not just how long a car took to make it through reconditioning, it's also how long it took to complete each phase, and the hours and money it took to get through.
Vendor management is a big part of what you do. Repair360 can inform reporting on vendor productivity so you know which vendors are your most efficient. This can also help you understand and select payment options that work best for your operation (flat fee per car vs. fee per service). Perhaps the most powerful vendor management feature is Repair360's automated vendor invoices. Repair360 generates vendor invoices only after all work is completed and approved. This assures that you pay only for work that is actually completed.
Repair360 gives you the help and the time you need to improve your operation with performance visibility of each phase and each resource.
Reconditioning is a controllable cost where success or failure transfers directly to the bottom line. Managing recon costs means measuring the activities that contribute to those costs. 
A clear benefit of using a true Reconditioning Management System is the ability to understand the total costs of your operation from multiple angles. Per vehicle costs are tracked down to the number of technician hours for each process step, flag hours vs. actual hours paid, parts costs and core values on replaced parts, idle time, days in recon, and more. Plus, with each process step tracked, you have an immediate understanding of how long a particular repair or a particular process normally takes, which vendors are performing well, and which costs deserve attention. Repair360 gives you the tools and the intelligence you need to manage costs and increase your marginal profit.
Peter Drucker is often quoted as saying that "you can't manage what you can't measure." In that case, you can manage pretty much anything with Repair360. All your operational data is available to inform reporting and analysis. The advanced search capabilities allow you to explore the data as never before. In addition to the useful dashboards that show you critical numbers and status, you can create and download custom data sets for additional review and analysis, trend reporting, visualizations, and so much more.
Moving vehicles from intake to frontline-ready is a unique process for each, and you need a framework that is both flexible and enforceable in order to maximize quality and output. Your Repair360 RMS arms you with the data and tracking to expose areas in your process that can be improved. Your ability to analyze the operation goes beyond simplistic "time-to-line" metrics by bringing together measurements of all the variables that impact time and cost. You can examine the efficiency of your operational hand-offs from one repair stage to another, match your team's skill sets to the work required, and plan capacity for upcoming work.